Eyewitness Presentations
"I Was There"
Hear riveting first-person accounts of significant events in Black history.
Let History Come Alive!
Don't just read about it.  Listen to someone who was there!
Our speaker, Jacqueline Blake, marched with Dr. King on August 28, 1963 at the historic "March on Washington for Jobs & Freedom" and attended several other Black history events.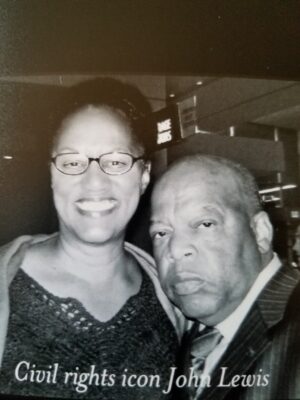 Few people have been eyewitnesses of so many Black history events.
1. Dr. Martin Luther King, Jr. – March on Washington 1963
2. Nelson Mandela Funeral Week – "My Trip to South Africa"
3. August 28, 2013 – 50th Anniversary of March on Washington – VIP seating

4. Selma – Walking the Edmund Pettus Bridge – 50th anniversary
5. Barack Obama – Democratic National Convention in Denver, Colorado for his Nomination
6. Juneteenth – Dallas, Texas.  She is a direct descendant of freed enslaved persons who settled in Texas and whose homestead remains there after 100 years……a historic site.
Testimonials
"History has never been told before like
this for me! You are an amazing storyteller!"
Tanya C., Romulus City Government
"She did a wonderful job adding
life to Black History. The students
were able to walk in her shoes
and in the shoes of those who
made a difference for our country."
Miriam T., Academy Principal, Ohio
Jacqueline Blake, attended the 50th anniversary of the 1963 march and most recently (2020) another August 28th "March on Washington – Get Your Knee Off Our Necks", and was interviewed by several media outlets and seen on television news in New York City.
Click here for a published article about her eye-witness experiences.
Give your young students or adult audience this rare opportunity to hear a first-person account.
Speaker Jacqueline Blake also traveled to South Africa during Nelson Mandela's funeral week and was interviewed by five international television stations. Hear her dynamic first-hand experiences.
Let history come alive for your next event.  Don't just read about it.  Listen to someone who was there!
Complete the Interest Form below.
Schedule a Presentation
For more information, complete and submit INTEREST FORM below.